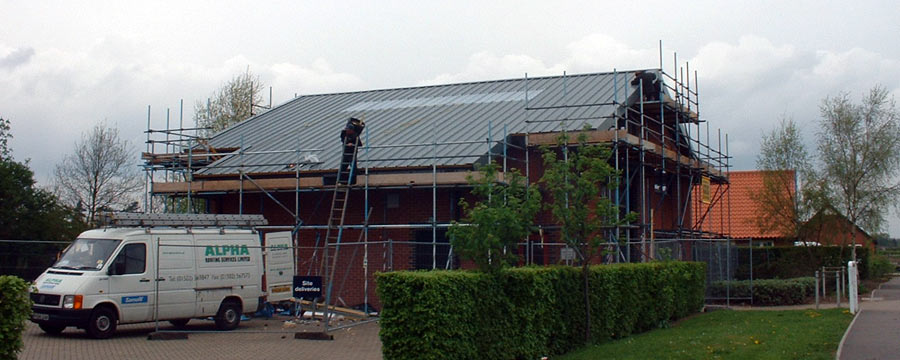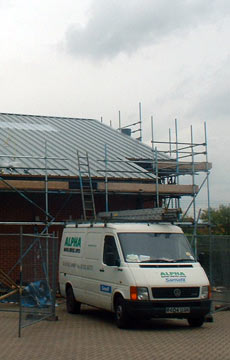 Sheeting and Cladding
There are a number of suppliers that we use for all metal and polycarbonate sheeting and cladding works. Sheeting and cladding can be appropriate for a new-build, or a refurbishment project. There are a few different metal sheeting and cladding systems available. These are:

Over Cladding

■Recycles the outer cladding as the liner
■Minimal disruption inside building
■Meets current building regulations

Cladding Replacement

■Effectively creates a new building, for a fraction of the cost.
■Upgrade weatherproofing and insulation.

Composite Panels

■Complete insulated system in one.
■Flat, micro-ribbed or profiled panels.
■Fast and simple installation.

Over-Roofing

■Totally new weatherproof skin.
■Recycles the old roof deck as the liner.
■Minimal disruption inside building.

Flat-to-Pitch Roof Refurbishment

■Framing system creates a pitched roof over existing flat roof.
■New dry "attic" space is created for insulation, storage and services.

Polycarbonate sheeting also has an assortment of systems available. We use the manufacturer Twinfix for our polycarbonate sheets and accessories. Twinfix can offer a range of glazing bar systems. A Twinfix glazing bar or panel system can be suitable for most pitched roof glazing applications. The systems on offer are:

■261 Rafter Gasket System
■280 Structural Glazing Bar System
■226/7 Glazing Bar System

Amongst other things, all Twinfix glazing systems have:

■Screw-on matching caps to hide the stainless steel bolts and screws, which leave the glazing sheet fixed in firmly.
■Coloured aluminium bars. These are polyester powder-coated for long life.

These systems are for use with Multiwall Polycarbonate Sheets in Pitched Roof glazing Applications.

A few examples of works suitable for this system are listed below:

■Supermarket entrances
■Conservatories
■Sunrooms
■Swimming Pool Housings

Alongside this, there is an extremely large range of accessories available to finish off every system and give it a professional finish. This includes white and brown matching paint to touch up any damage which could occur during installation.